Review Acer made a significant impact on the netbook market last year with its hugely popular Aspire One A110. It recently released a selection of new netbooks in its Aspire One range, and the D250 we have here is bizarrely similar to the D150, which was only launched a couple of months ago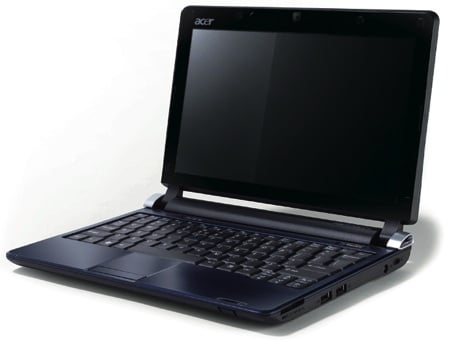 The D250 we reviewed makes use of Intel's 1.66GHz Atom N280 and Acer supplies it with 1GB of DDR 2 memory. Watch out, though: it's also available with the 1.6GHz N270, and in fact almost all supplier in the UK are selling the latter.
Two USB ports and a multi-format card reader are found on the right, along with the power socket. On the left sit Ethernet, VGA, audio in/out and a third USB port. The vent is also on the left, and although the D250's fan fired up a fair amount during testing – even when doing little more than browsing the web – it's not loud enough to irritate.
The rear is home to naught but the three-cell 2200mAh battery. A six-cell version is also available, though the battery's a bulky affair that angles down from the notebook to lift the back of the machine up off the deck. It makes the machine less comfortable to carry – stick it in a bag and you won't care – but you may find it angles the keyboard better.
Full review – www.reghardware.co.uk